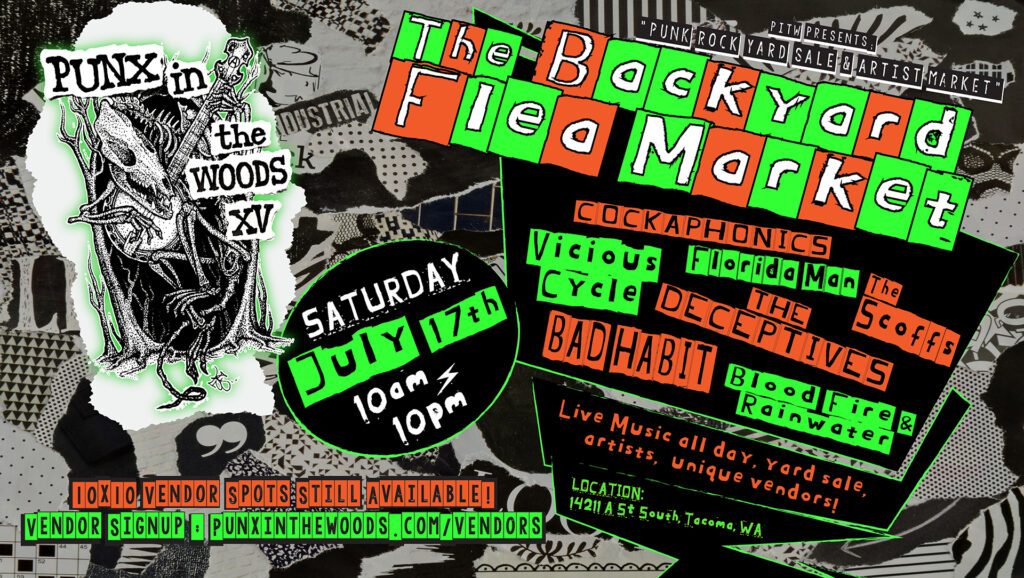 Punx in the Woods presents "PUNK ROCK YARD SALE & ARTIST MARKET"
Outdoor live music all day, yard sale, artists, unique vendors, and more…
LOCATION: 14211 A ST S Tacoma, WA 98444
Thanks for your interest in participating in this PiTW "fun-raiser." Please fill out the signup form below with your information and be sure to include a couple of sentences about your wares for promotional purposes. All vending spaces are 10×10 and have a view of the stage. The focus of the day is fun-raising for PITW so it would be lovely if you can make an additional donation near the end of the day.
Event page is here to check for music line-up and other updates: https://fb.me/e/2b54W9qzz
Space is limited to 15 vendors, most are taken, so get your reservation in now!
Please contact Shawna with any vending questions:
(253)209-4699
shawhat@hotmail.com
LIST OF CURRENT VENDORS (in no particular order):
Comics 4 Kids
Non-profit promoting children's literacy  with and through free comic books
Allumiknotty 13
Re-crafted hand forged aluminium creations and knot work
Handing Zen
Dirty kid, turned mom! From patching holes in my clothes to making patchwork. I upcycle vintage/ secondhand leather and big company remnants to make all of my pieces. I used to live off waste and now I'm making projects and custom pieces out of it.
Crystal Web
Healing crystals, specimen quality gems, tools for spiritual growth and healing.
Of Tigers and Lilies
Paintings, jewelry, and resin art. Kind of a cluster fuck of random hobbies.
Ganjaruka
Unique handmade merch that is customizable for your souls personal taste. Featuring; Candles, Prints, Jewelry & More
Andrew Dimmit
Original framed art, tarot readings, used books
 
Death Metal Mama


Spikes & studs, patches and pins, locally hand forged hardware. Sticker snack packs and candy, coffee mugs and beer steins, and custom printed boxer briefs. Hand painted Misfits battle vest on display.
Creations from the gravel pit
Curiosities, plants, and rock creations; tables, lights, jewelry, polished and sliced agate art
Andy Art
Original Artwork and painting.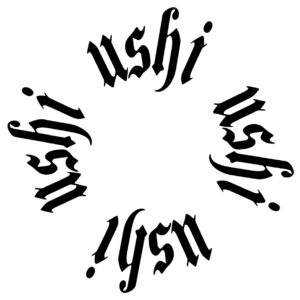 Ushi
Clothing brand. I make punk type of clothing that ranges from t shirts to jeans to hats as well as some cool stuffed dolls.