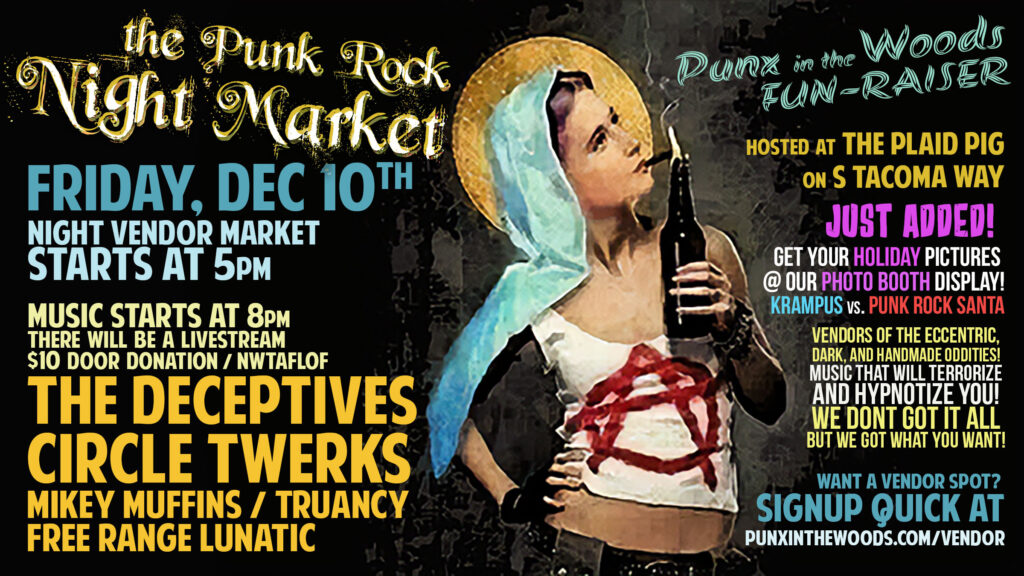 Punx in the Woods presents "THE PUNK ROCK NIGHT MARKET"
Live music, night market vendor booths, artists, unique crafts, photo booth, live-stream, and more…
LOCATION: The Plaid Pig Music Lounge on S Tacoma Way
DATE: Friday Dec 10, 2021 – market opens at 5pm-midnight
Plz be prepared to mask and show vax (or at least get a tested). Evening will be filled with all the classics you can expect from a PITW event. Raffle, photo booth, whole group winter season picture, interactive games and great music!! PITW pop-up, night market, fun-raiser at the Plaid Pig on December 10th. Vending spaces are $30-6×4 space and $40-8×10 space. We also have tables available (various sizes) for extra $10 donation.  Space donations can be made through in-person check, PayPal account – Pitwfestival@gmail.com, or below on the donation button with credit/debit card.
Support local, support your community, and your local DIY venue!
VENDOR SCHEDULE:
3-6pm Vendor load in and set up (late load-ins allowed )
5pm – Doors for market
8pm – Music show ($10 suggested donation but this is included in the vendor booth) : Free Range Lunatic, Mikey Muffins, Truancy, Circle Twerks, The Deceptives. The music will be live-streamed with optional promo of vendors between sets. Make sure to get in on our crew interviews during the day to be featured.
10pm – vendor can start loading out between band sets in back of venue or wait until the bands are done around midnight. Up to the vendor how long they want to stay.
Thanks for your interest in participating in this PiTW "fun-raiser." Please fill out the signup form below with your information and be sure to include a couple of sentences about your wares for promotional purposes. All vending spaces must provide tables, space is limited to 6 foot tables length side by side and anything you can fit around or behind that. There will be limited power but it is indoors. The focus of the day is fun-raising for PITW so it would be lovely if you can make an additional donation near the end of the day.
Check the Facebook Event page for music line-up and other updates: https://facebook.com/events/1070219530455284
Space is limited, so get your reservation in now!
Please contact Shawna/PITW Crew with any vending questions:
(253)209-4699
shawhat@hotmail.com
LIST OF CURRENT VENDORS COMING SOON (in no particular order):